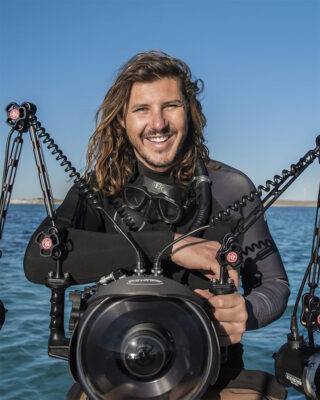 Jake Wilton is an underwater photographer from NSW, Australia. Jake's passion for photography began in 2019 while he was living and working on the world heritage listed Ningaloo Reef in Western Australia as a guide and dive instructor. Since that time Jake has built a portfolio of imagery from around Australia and the Asia Pacific working commercially with clients and forming partnerships with Nikon Australia, Epson Australia and Aquatica Digital.
Jake's work has been published in notable magazines such as Australian Geographic, Dive Mag UK, Oceanographic, Ocean Geographic, Hakai, EZ and Dive as well as being recognised in competitions such as Australian Geographic Nature Photographer of the Year, Ocean Photography Awards and Underwater Tour Awards.
Jake has a deep passion for the ocean and conservation and hopes to use his imagery to inspire a greater love and desire to protect the our environments and its wildlife.
Nikon Australia Creator 
Nature Photographer of the Year 2022 – 1st Place "Threatened Species"
Underwater Tour Awards 2022 – Overall Grand Prize Guru Award Winner
Underwater Tour Awards 2022 – 1st Prize "Characters"
Nature Conservancy Photo Awards 2022 – Finalist  
Ocean Photography Awards 2022 – 3rd Place "Portfolio" 
Wildlife Photographer of the Year 2022 – Finalist
Underwater Photography Awards 2022 – Commended – Finalist 
Australian Photography Awards 2022 – Finalist – Nature
Ocean Geographic Pictures of the Year 2021 – 1st Place (Emerging Photographer of the Year)
Ocean Geographic Pictures of the Year 2021 – Finalist (Portrait, Human & Ocean)
Australian Photography Awards 2021 – Finalist – Nature