We are proud to present one of our latest housings: The AR5 for the Canon EOS R5 Mirrorless camera! Continuing in Aquatica's reputation for offering premium quality and at affordable prices, the AR5 housing has the finest ergonomics and control accessibility combined with the famed ruggedness of our all aluminum construction and distinctive hard coating.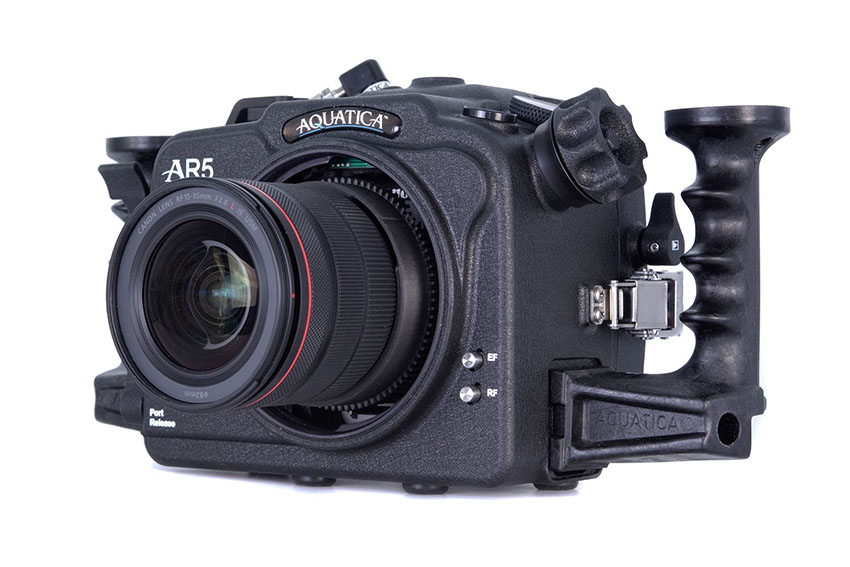 ABOUT THE CAMERA
The EOS R5 is the flagship camera body in Canon's mirrorless line.
45MP Full-Frame CMOS Sensor
8K30 Raw and 4K120 10-Bit Video
DIGIC X Image Processor
Sensor-Shift 5-Axis Image Stabilization
Subject Tracking with Deep Learning
CFexpress & SD UHS-II Memory Card Slots
ABOUT THE HOUSING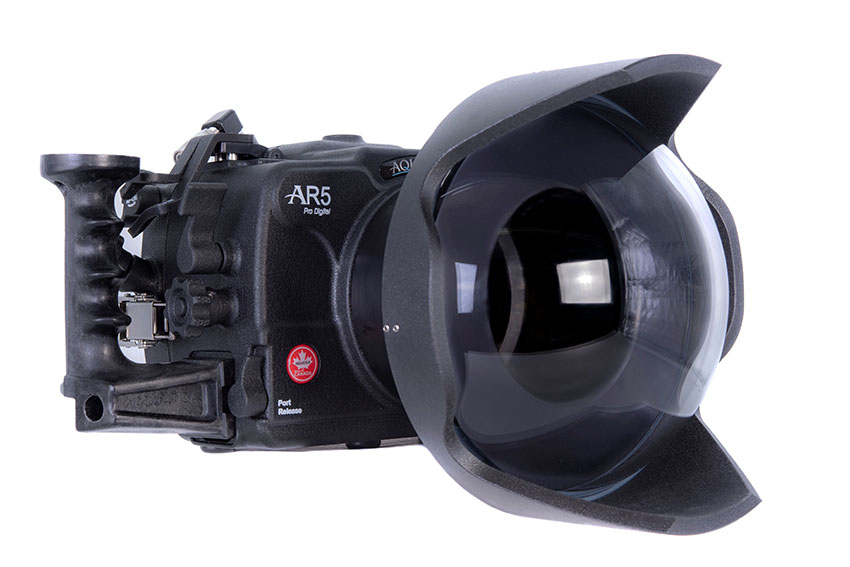 As to be expected with all Aquatica housings, it is CNC machined from 6061 T6 Aluminum with a MIL-A-8625 anodized coating and added on top a baked on, extra tough powder coat paint. All control shafts and push buttons are made from T304 stainless steel. This, as for all our housings, will take a licking and keep going!
The AR5 housing supports not only the new RF mount lenses but also the EF mount by simply using our new adaptor extension ring #48474. This new adapter can easily be installed and will enable the AR5 housing to function with any previous Canon EF lens and its corresponding extension ring.
SURVEYOR MONITORING SYSTEM INCLUDED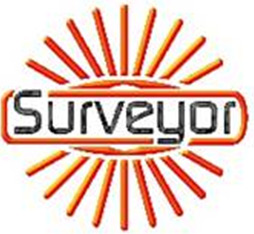 What was previously an optional accessory, we are now including our field proven Surveyor Vacuum System (Pump, valve and sensor) as standard.
VIEWFINDERS
The Aquatica AR5 housing is supplied with our Galileo type eye piece. This high quality and coated optical finder gives a bright and full view of the view finder. For those seeking the ultimate in viewing for still image, the optional Aqua View Finder, available in straight and 45 degrees version, are among the best of the industry, they can easily be installed in a matter of a few minutes by the user. The enlarged and enhanced image provided by the Aqua View Finder (#20054 & 20059) is second to none in clarity; it provides the photographer with tack sharp corner to corner viewing of the camera view finder for composing and critical focusing.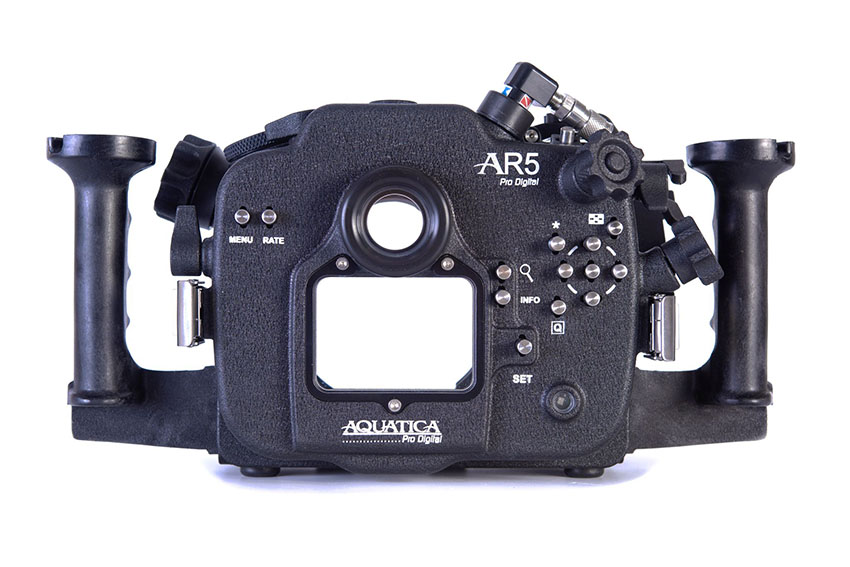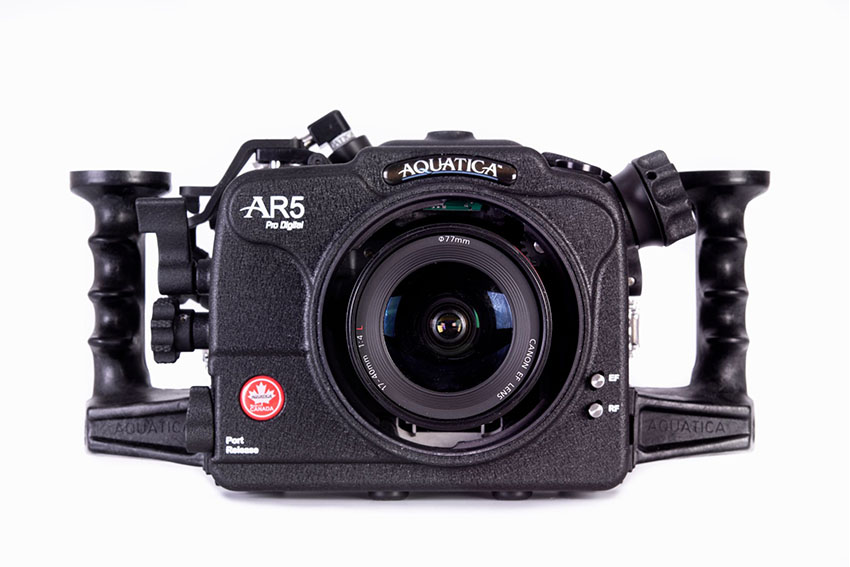 SPECIFICATIONS
Part Number:
20091-NK-VC: with double Nikonos bulkheads & complete Surveyor vacuum circuitry
20091-KM-VC: with single Ikelite bulkhead & complete Surveyor vacuum circuitry
20091-OPT-VC: with dual optical bulkheads, LED trigger & complete Surveyor vacuum circuitry
20091-KTTL-VC: with Ikelite TTL capability & complete Surveyor vacccum circuitry***Ikelite DL5 External converter required #46074. Purchased separately from Ikelite.
Composition
Aerospace grade 6061 T6 Aluminum with MIL-A-8625 Anodized Coating then finished with a baked on, super tough, abrasion resistant powder coat paint. Control shafts and all push buttons are T304 Stainless Steel
HDMI
Large 23.75mm (.950 inch) HDMI Bulkhead Opening
Depth Rating
90m ~ 300 ft.  Can be upgraded to 130m, ~ 450 ft with our deep spring kit
Weight
6.5 lb (2.94kg)
Dimensions:
9.50" x 7.10" x 5.96"
(W x H x D) (241mm x 180mm x 151mm)
Port System
Compatible with all Aquatica DSLR sized Bayonet Mount Ports
Supported Accessories:
Aqua View and Aqua View 45 & 180 viewfinders
Full line of the Delta 3 Arm System
5HD Monitor
Aquatica Close Up Kit
Aquatica Housing Lanyard Kit
HOUSING FUNCTIONS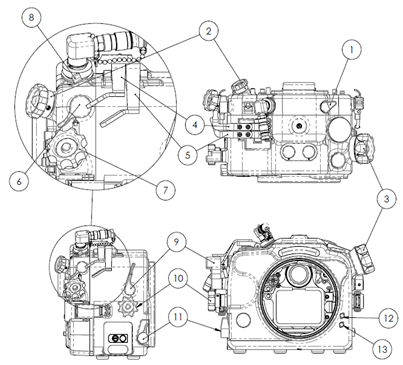 ON-OFF Lever
Quick Control Dial 2
Zoom-Focus Wheel
Movie Shooting Button
M-FN mode Button
AF-ON start Button
Quick Control Dial 1
Mode Button
Main Dial
Shutter Release Lever
Port Release Lever
RF Lens Release Button
EF Lens Release Button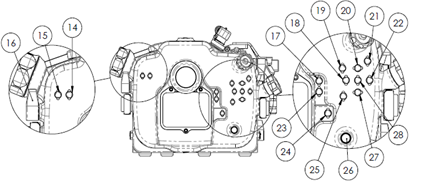 Rate Button
Menu Button
Playback button
Magnify/Reduce Button
Multicontrol Left
AE Lock Button
Multicontrol up
AF Point Select Button
Multicontrol Right
Info Button
Set Button
Quick Control Button
Alarm LED window
Multicontrol Down
Multicontrol Center