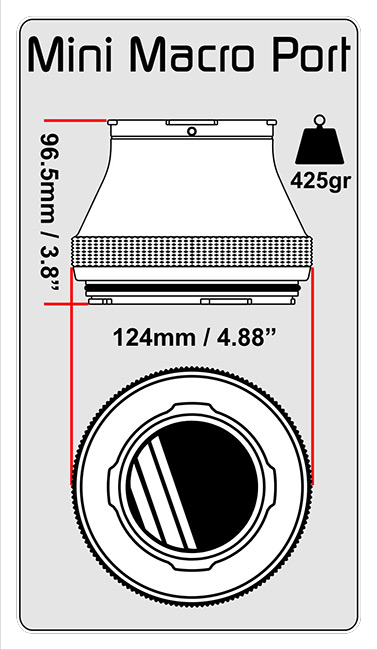 This port is equipped with a standard filter thread, and can accept screw-in water contact close up lenses of 77mm or 67mm, when using our 77mm to 67 step down ring (19358). Or for added flexibility, a four points bayonet, located on the front of the port, allows our Flip Holder (19355) to be quickly mounted and safely locked into place, once installed, the close up lens access is as simple as flipping it into place. Also available is a double hinged holder (19356) giving you the opportunity to use two lens of different magnification hinged on the same holder's frame, making this Mini Macro Port the ultimate tool for your macrophotography.
The Aquatica Mini Macro Port integrates a locking system into its design which is compatible with the newly released line of ports extension rings, owners of existing port extensions need not worry, since this macro port uses the same established bayonet system, all previously released port extensions are compatible with it.
The Aquatica Mini Macro Port is made of sturdy, marine grade aluminum and is anodized for added protection. Rated to 300ft plus, weighing in at only 425gr, the Mini Macro Port travel light and small, and is a definitive asset in these days of luggage restrictions.

The Aquatica Low Profile Macro Port offers access to super macro photography via the use of water contact close up lenses and a dedicated close up lens holder, for a detailed view of the Aquatica Close-Up system, please click here.