Taking pictures underwater never looked this good
With its quality coated glass elements this finder delivers a 100% viewing of the camera viewfinder area, allowing photographers to see a crisp, bright and sharp image from corner to corner.
Designed with the intention of having the smallest and less obstructive shape possible, the body of the Aqua View 180 is built of the finest grade aluminum, hard anodized to military specification and protected furthermore with a baked on powder. The Aqua View 180 is rated to depths of up to a minimum 90m (300 ft.) and is built to go way beyond this depth rating. All materials used in its construction are top quality, exactly the same grade used by the aeronautical industry. This extra step in quality control insures that your Aqua View Finder will resist the harsh working environment common to the underwater photographer with flying colors.
All current Aquatica housings built after 2008 are compatible with the Aqua View 180 Finder, which can be easily installed and removed by the user in less than a minute.
A quick and straightforward diopter adjustment is built in and guarantees a sharp image for each individual's eyesight. No tools are required. The user may also opt to simply adjust the diopter +/- setting on the DSLR's built finder instead.
Since its introduction, the Aqua View 180 Finder has become a permanent fixture on scores of professional and amateur's underwater housings, it is considered an essential tool by many, simply for the level of quality in viewing, composing and critical focusing performances it offers.
The Aqua View Finder is an indispensable tool in my quest to obtain the professional images I am expected to deliver.
– Mauricio Handler, Professional Underwater Photographer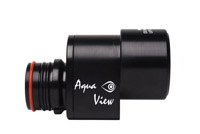 Mouse over image above to see optical configuration.
FEATURES
Large rear viewing area of 1.5'' / 38mm.
Coated optics. 100 meters depth rating.
Hard anodized aluminium construction for long-lasting performance.
Non obstructive construction, giving the rear LCD a clear view of menu and playback images.
User adaptable to our recent line up of housings
SPECIFICATIONS
8 elements, 5 groups coated optics
Hard anodized aluminium construction
Diopter adjustment
Dimension: 4 3/8'' x 2 3/4''x 2 3/4'' (110mm x 70mm x 70mm)