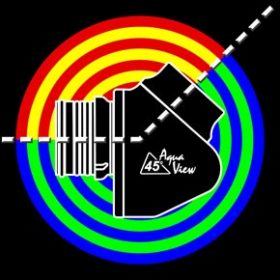 The Aqua View 45 optical tract is built of high quality BK-7 coated glass elements, delivering a 100% enhanced viewing area, allowing the photographer to see a crisp, bright and sharp image from corner to corner from a convenient and comfortable angle of view.
Aqua View Finder are designed to be installed and removed easily by the user in as little as 30 seconds. This feature alone makes it convenient for its removal in preparation for travel and long-term storage.
Designed with the intention of having the smallest and less obstructive shape possible, the body of the Aqua View 45 is built of the finest grade aluminum, hard anodized to military specification and protected furthermore with a baked on powder. The Aqua View 45 is rated to depths of up to a minimum 90m (300 ft.) and is built to go way beyond this depth rating. All materials used in its construction are top quality, exactly the same grade used by the aeronautical industry. This extra step in quality control insures that your Aqua View Finder will resist the harsh working environment common to the underwater photographer with flying colors.
Its streamlined design, does away with the blunt boxy shape normally associated with this type of view finder, diopter correction setting are done via the camera view finder adjustment found on all DSLR's. Doing so internally will insure that this correction will remain sharp and optimized for as long as you need it to be.
FEATURES
BK-7 coated glass optics. 100 meters depth rating.
Anodized aluminum construction protected with powder coating for long-lasting performance.
Compact and streamlined design minimising the obstruction of the rear LCD to its minimum.
Quickly User adaptable to our recent line up of housings