Tehnical Lighting Control: Water Wizard
The Water Wizard is a uniquely designed housing for the state of the art Pocket Wizard Plus III ® radio transceiver. Photographer familiar with these radio transceivers know that the applications for them are many, to expand on this further, Aquatica has developed a waterproof enclosure. Photographers can now safely and reliably link up to powerful studio flash units on the surface, as well as multiple underwater strobes with studio flashes without the need for any physical connections. A full fledge studio setup solution can now be brought underwater. Waterproofing the Pocket Wizard transceiver technology, brings up news creative lighting opportunities for situation such as surf photography, spelunking, extreme boating, and industrial photography. Any situation where remote lighting would be welcomed in a harsh and wet environment are all now possible when using a Pocket Wizard Plus III ® in a Water Wizard housing.
Why select the Pocket Wizard Plus III ® radio transceivers, the answer is simple. The Plus III transceiver is the most sought after source of triggering flashes and camera used by professional photographer. Countless professional routinely stake their reputation and livelihood on this product in order to creatively light up a scene, get that jaw dropping image and constantly push the boundaries of image making ever so further away. There are alternates ways to trigger flashes using a radio signal out there, but there is only one choice for Aquatica, the same used by the discerning professional pros all over the world.
Aquatica is known for its rugged underwater housing, it is a household name in the working underwater photographers industry, and while the Water Wizard housing is not meant to actually be used underwater, the signal from a radio wave transmitting poorly underwater, the equipment connected to it can be submerged freely. As long as the Pocket Wizard Plus III ® radio transceiver in Water Wizard housing is floating on the surface, it will retain a more than useful range.
To keep the Water Wizard housing on the surface, three 1/4" mounting holes are supplied to mount to a tripod when used in shallow water condition, for deeper situation, buoyancy device can be attached to help maintain a vertical attitude of the Water Wizard, thus improving lateral transmission.
Connecting the Water Wizard to your Aquatica housing is simplified due to the uses of the well-established and proven Ikelite® bulkhead connection, from this bulkhead connector, popular, commercially available sync cord and extension cord of 15ft/4.5m and 3ft/.90m can be used.
Here are a few ways the Aquatica Water Wizard housing can be put to good use:
Pool studio photography; a Pocket Wizard Plus III ® radio transceiver in a Water Wizard housing is connected to the camera housing, reaching out to the surface, it is used as a transmitter, other transceivers in Water Wizard housings also reaching out to the surface are connected to underwater strobes mounted on tripods, multiples units can be set up this way. Additionally, any amount of surface studio lighting can be synchronized with additional Pocket Wizard Plus III® radio transceivers.
Surf photography; a Pocket Wizard Plus III ® radio transceivers in a Water Wizard housing can be mounted on the camera housing as a transmitter, then an remotely located assistant holding additional flashes with Pocket Wizard Plus III ® radio transceivers in a Water Wizard housing can be added to light up a twilight scene, or used as fill flashes.
Spelunking, Caving and Cenotes: Pocket Wizard Plus III ® radio transceivers in a Water Wizard housings can be connected to underwater strobes and cameras to give the photographers a safe way of getting the equipment to the destination an of synchronizing top side and underwater lighting in chambers and other remotely accessible places.
The Water Wizard can also be used as a remote camera trigger. In order to do so, the camera housing will need a Pocket Wizard Plus III ® radio transceivers in a Water Wizard housing connected to it, but in this instance, it will be used as a receiver. The installation of a remote control bulkhead (# 18738) and the appropriate internal remote cord (# 19310 for Nikon 10 pins remote socket) or the (# 19311 for Canon 3 pins remote socket cords), Once setup, the camera can now be triggered remotely by using a Pocket Wizard as a transmitter.
Wildlife, sport, industrial, research or any adverse situation with inclement condition requiring protected lighting or remote triggering of a housed camera, are the perfect occasion to put the Water Wizard to work.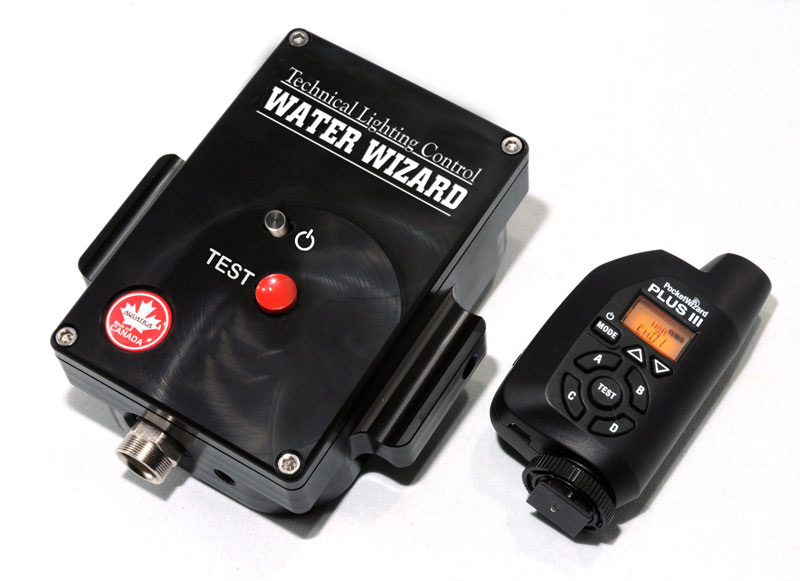 Click on the thumbnails above for larger views
Click on the thumbnails above for larger views.
To see more of Margaret Hines' underwater work,
visit her website: www.margarethines.com