Underwater photographer and videographer Maxwel Hohn releases mini nature documentary 'TADPOLES: The Big Little Migration'. A world first, streaming for free, right now.
TADPOLES: The Big Little Migration is a unique mini documentary and a world first. The movie documents the incredible daily migration of the western toad tadpoles, a designated threatened species, and one that faces constant risk from urban development.
Over the past four years Maxwel has been visiting a secluded lake on Vancouver Island (a lake that will remain nameless to help protect the species). Each year he has been patiently filming, camping, and photographing the mesmerizing tadpole action. Accumulating what is likely the most comprehensive library of western toad tadpole video, anywhere.
Bearing witness to the incredible, and rarely seen daily migration of tadpoles, Maxwel reached out to fellow filmmaker Russell Clark to write and edit a mini documentary about their journey, and fellow videographer Steve Woods to help frame the story with additional video. The result is an eight minute mini-nature video that has already gained a huge amount of online attention, and captured the hearts of people around the globe – even in the few hours since its online premiere yesterday.
From nature videographer Maxwel Hohn: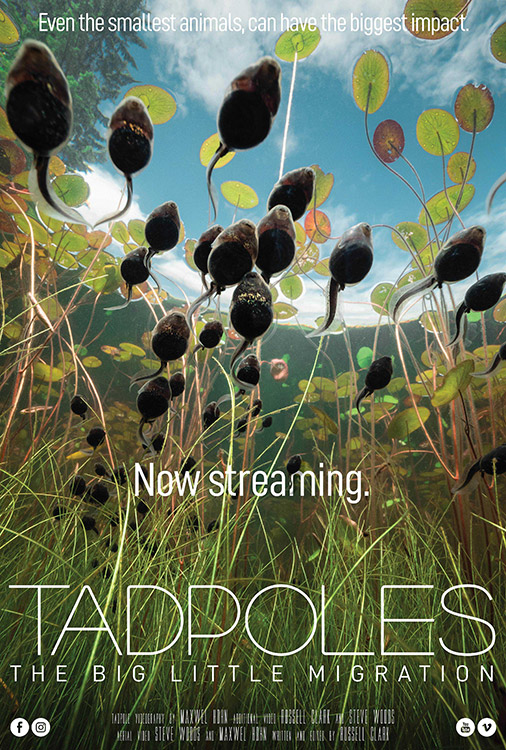 "Documenting almost the entire life cycle of an animal is rare, challenging, and lots of fun. Being able to capture something as unique as following the toad's incredible underwater metamorphosis over the 6-8 weeks has been a passion project from the start.  The guessing game of figuring out the daily routine of the tadpoles required patience, observation and a healthy dose of curiosity in order to "think" like a tadpole. For me as a photographer I really wanted to document each of those moments to share everything I've learnt from observing these fascinating little creatures. "
They swim an incredible gauntlet every day, starting in the deeper part of the lake in the morning, working their way towards the shallows. They use the lily pads as cover from predators during their journey. They congregate into a 'cloud of tadpoles' and weave in and out of the lily pads. It looks like an underwater river of black. Once they arrive in the shallow area of the lake, they can bathe in the oxygen-rich waters and feast on the micro plants and algae. A few hours later, they turn around and do the same route in reverse, swimming the same gauntlet lined with predators, this time so they can spend the night in the deeper parts of the lake. They repeat this daily migration every day throughout their metamorphosis.
I was born in BC and have always seen tadpoles as a young kid, so to be in the water now as a photographer and capture their journey has been a lifetime in the making for me.
When they're in the big thick, carpet-like black mass, it was just mind-blowing. We estimate three million tadpoles in this one location. A friend compares it to the migration of wildebeest moving across the Serengeti, but on a tiny scale! It was humbling and heartwarming.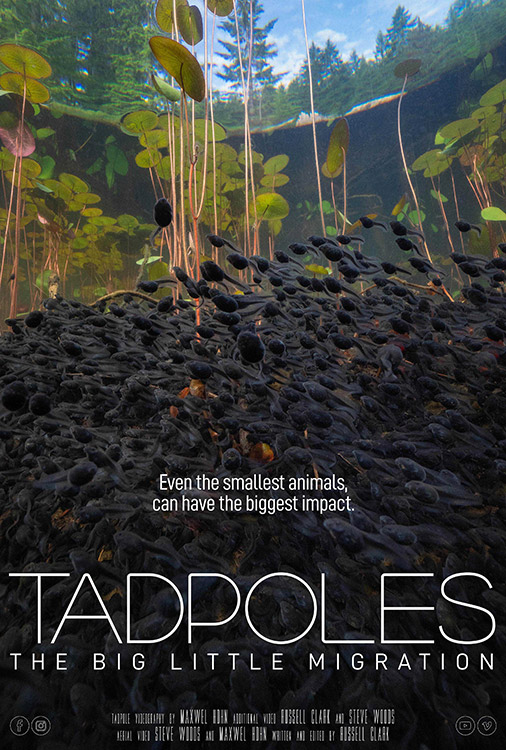 To see these aquatic tadpoles evolve into terrestrial animals before my own eyes left me feeling like a proud parent, and is proof that even the smallest of animals can have the biggest of impacts."
Writer and Editor Russell Clark adds, "Producing a mini-nature documentary is a long task. This has been a self financed labor of love for Maxwel for the last four years, and it shows. The footage is incredible, and unique. No one has ever told this story in video before – not the BBC, not Nat Geo, no one. We've chosen to make it free for everyone to enjoy and learn from. This story shows us that no matter how small you are, if you keep swimming, you'll lead to great things. There's been no better time to share this kind of story with the world."
Maxwel Hohn lives in the Comox Valley, Vancouver Island, BC, Canada. He is an adventurer, photographer and filmmaker with a passion for showcasing British Columbia's stunning natural diversity. Maxwel grew up on the Sunshine Coast before travelling around the world evolving his skills as a photographer. Honduras, Vietnam, Norway, Greece, The Bahamas, and Tanzania all helped sharpen his skills to become one of Canada's leading nature photographers. He has contributed video to the BBC, National Geographic, Discovery Channel, various BC tourism organizations, won 'Best In Show' at the 2018 Monterey Shootout, is a published photographer and writer, and has a prominent social media following.
Maxwel Hohn is available for phone, online, email, and video/TV interviews.
For more information on Maxwel, visit: www.maxwelhohn.com
Email: maxwelhohn@gmail.com