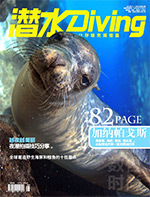 Aquatica is currently featured in Diving Magazine, an international magazine based in China. The story is aboutthe process of making an Aquatica underwater housing, and it takes the reader on a step by step journey of the wholemanufacturing, assembling, testing and quality controls required in getting an Aquatica housing in the hands of an underwater photographer.
Images and text by Jean Bruneau, Technical Adviser for Aquatica, translated by Chloe Song and edited by Xing Hang, this publication was made possible with the invaluable assistance of our Aquatica dealer, ODE Sports Co.
To read the article, click here. For those not familiar with reading Chinese, this article is also available in English on our website here.