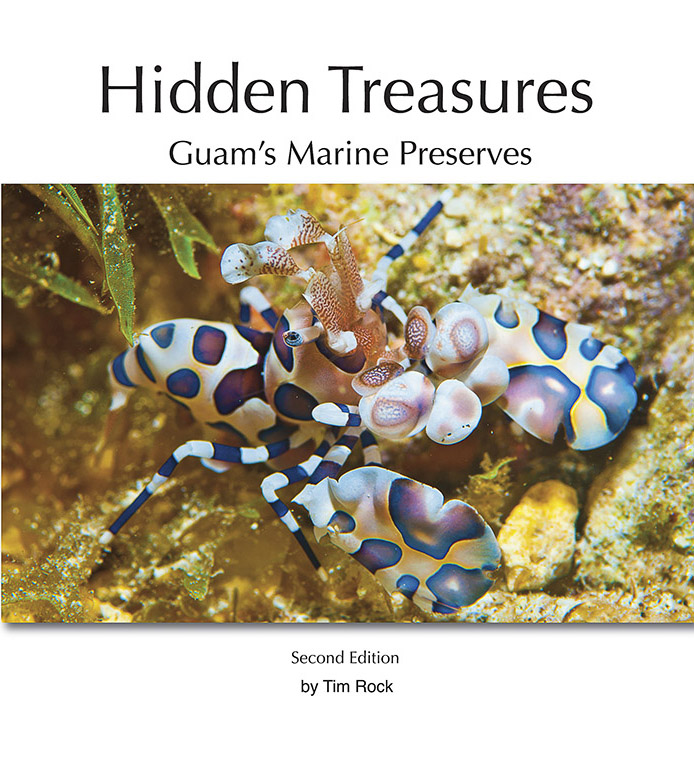 NEW for 2014! Hidden Treasures, Guam's Marine Preserves – Second Edition
by Guam-based author TIM ROCK
More photos and more pages showcasing Guam and it's marine world. Introduction by National Geographic's David Doubilet. Inside this 236-page (20 more pages than the first edition, over 200 new photos) book find more than 440 full color images, maps, descriptions and insights into this special Pacific marine world. The small but scenic island of Guam in Western Micronesia is blessed with one of the world's richest coral reef marine environments. It thrives with more than 1000 fish species and over 400 kinds of hard and soft corals, 1,600 mollusk species and a dozen different marine mammals.
The betterment of Guam's diverse underwater world has been the thrust behind a series of nature preserves set up around the island in the last decade. What these areas do is allow breeding stocks to prosper to make more fish and allow corals to grow without stress. In a far-sighted move, the island was studied and some small but very important areas were set aside to help replenish the reefs. They encompass small reef areas and bays from north to south.
They are starting to ensure a resurgence of reef health on this diverse western Pacific gem. This Second Edition is a visual record of the Guam marine preserves by Lonely Planet author and Getty Lonely Planet Images photojournalist Tim Rock, who is a Guam resident. The preserves are now at an important stage in their young development. Enjoy this trip through the preserves. The book also features parks, conservation and historical sites and popular underwater venues found on tropical Guam.
All images in the book were taken using Aquatica housings and Ikelite strobes.
This book is now available worldwide through Amazon. www.amazon.com/gp/product/0983896275