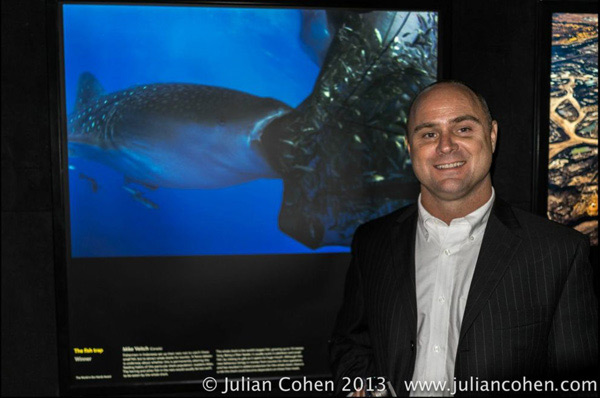 We just heard that another Aquatica user, the well known underwater Photographer Mike Veitch, did good in the "Wildlife Photographer of the Year" competition presented by the Natural History Museum and the BBC Wildlife Magazine. This is the 49th year of these awards and it's well known as the most prestigious event of its kind for nature photography. ere were over 43,000 images entered in a variety of categories, this image, entitled "The Fish Net" won the World in Our Hands category described as: This category explores the increasingly complex relationship between people and the environment by documenting both destructive and constructive influences. Images may be newsworthy, symbolic or graphic, but must always be thought-provoking and engender a greater awareness of how our actions affect the natural world.
The photo was taken in Cenderwasih Bay, Indonesia and shows a young whale shark sucking on a net full of fish. The whale sharks in the area have learned over the years to associate these fishing platforms as an easy source of food because the fishermen mount huge lights at night above the platforms to attract small baitfish which they sell in the local markets. Over the years the whale sharks have learned to come to this platforms to also feed on the small fish and plankton that are attracted to the lights at night.  Fortunately, the fishermen are not bothered by the presence of the whale sharks and consider them as good luck and have a relationship with the local population of whale sharks. However, as this is not considered normal behaviour by whale sharks, we are not sure what this means to the whale sharks themselves, how much is the access to an easy meal affecting their migration patterns and normal feeding behaviour?
Shot with Nikon D90, Aquatica Housing, Tokina 10-17mm lens at 14mm, no strobes, f7.1, 1/80, ISO 200.