WHAT'S IN THE SONY® a7R II and a7SII CAMERAS?
Previously unheard level of performance in low light situation and high ISO setting. Mirrorless design make do without the mechanical complexity and bulkiness of traditional DSLR cameras, instead relying on electronic viewfinder or LCD viewing, some of the perks of the Sony® a7R II and a7SII are:
It can alternate from still to video record mode directly, without the need to switch, rotate or flip a lever to go from one shooting mode to the other.
Doing away with the mirror mechanism makes for a slimmer body design, yet, the camera maintain a solid quality of feel and handling and the body has a great layout of controls for the underwater photographer with a large choice of customizable buttons. Most functions can be reassigned, including focus operations of the camera to the rear AF-ON button. Shutter speed adjustment, aperture value (both have independent controls) and the ISO setting is quickly accessed using the rear control wheel.
The Sony® lens round-up has dramatically improved recently, and can be expanded by using a Sony® FE to Canon® EF lens mount converter to access a multitude of Canon® EF mount lenses.
The Sony® a7R II and a7SII offers recording of 4K 30p video footage straight on the internal memory card or stream uncompressed 4:2:2 8-bit signal via HDMI, or actually do both simultaneously, they also do in-camera recording of full frame 4K  video footage, using the full width of its sensor. they have the incredible 5 Axis sensor shift image stabilization of their predecessor, the A7 II, so be prepared for super high quality images coming out of the water with this camera. (insert 4K-VIDEO-Black)
THE AQUATICA A7r II HOUSING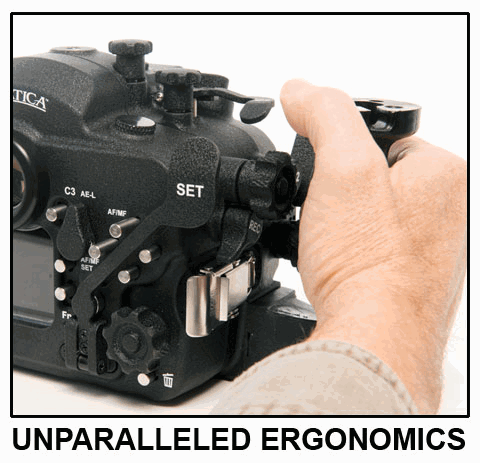 ACCESS TO CAMERA CONTROLS
Aquatica patiently studied the Sony Alpha 7 camera line-up carefully selecting the features that set it apart from other system. We then ergonomically placed the vital controls where they were most needed, right at your fingers tips. At the core of this housing design, is over 30 years of expertise in this field, pushing us forward in incorporating new ideas, concept and technological advances to these constantly evolving imaging tools.
Many housing offer access to the camera controls, however, the ergonomic ease with which these can be accessed is what sets the Aquatica A7r II housing apart.
The Aquatica A7r II offers unique and unparalleled access to the cameras controls, it does that by extending them so they are within easy reach of your fingers, eliminating the need to remove your hands from the housing grips.
THE REAR ROTARY DIAL OR HOW TO QUICKLY GET TO THE ISO
The Aquatica A7r II is the only housing currently on the market that access the rear rotary controls, a score of custom features can be assigned to this rear rotary controls, making your housing hyper responsive to your requirements.
Expert in the field have moaned the absence, on existing housings for this camera, of accessibility to the rear rotary dial. The Aquatica A7r II is the only housing currently on the market that access the rear rotary controls, a score of custom features can be assigned to this rear rotary controls, making your housing hyper responsive to your requirements. Aquatica's design department came up with a quick and logical way to reach this control and this exclusive rear rotary dial is now accessible via a knurled control knob located within easy reach of the photographer thumb.
The SET button is accessed via an extender, engaging the desired value is quickly and efficiently done without the need to remove your hand from the grip, or for that matter, your eye from the view finder.
The custom function buttons C1 and C2 locations are optimized, C1 being extended so has to be right at your fingers tips. Aquatica is well aware that no matter what amount of customizing a camera can offer, if these options are not easily accessed, they might as well not be available, success is often delimited by one reaction time in adapting to a specific situation, and we have invested many hours in designing this ultimate imaging tool that the Aquatica A7r II housing is.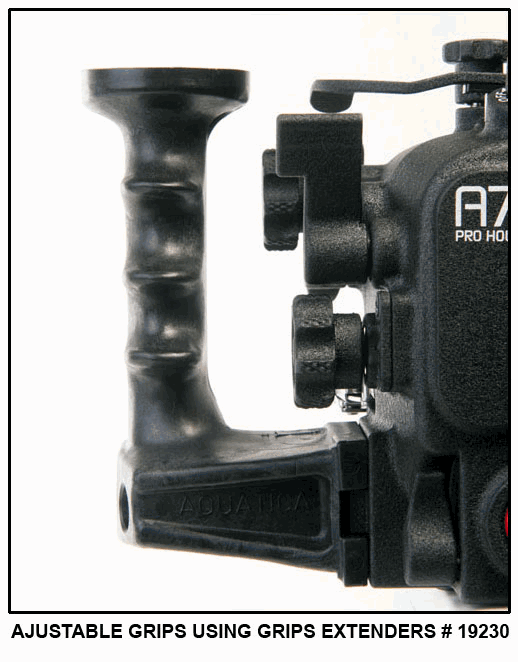 HANDLING THE HOUSING THE BEST GRIPS IN THE INDUSTRY
Handling is made with a pair of grips that have become the bench mark in comfort since their introduction a quarter of a century ago, these grips are a perfect example of Aquatica philosophy, change should be implemented to improve a products, and not for the sake of novelty, when grips are as perfect as these are, leave them alone! Our grips are light, sturdy and form fitting, they contribute to making your underwater photography experience, more pleasing and comfortable. Mounting points on top of them allows strobes arms, such as those from our Delta 3 line, to be mounted securely, freeing the top of the housing from unnecessary clutter.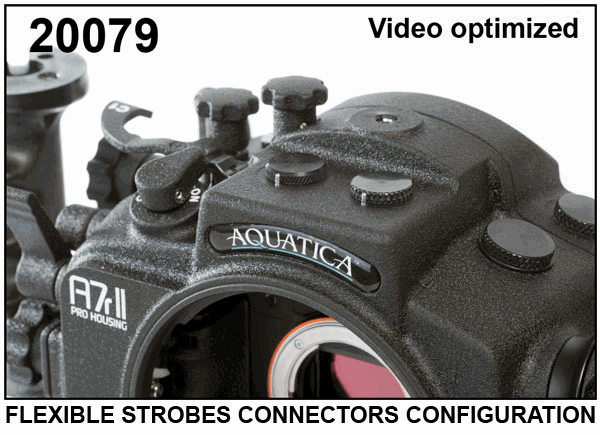 STROBE CONNECTIVITY
The Aquatica A7r II housing offers the best available options on the market for connecting strobes with dual optical ports which includes the LED strobe trigger relay, or a choice of either wired dual Nikonos or single Ikelite connectors. No matter which strobe option you select, you can be assured that there is no hidden cost or supplementary accessory required to be fully operational since all options retail at the same price and includes all components required to connect your strobe(s).
The LED Strobe trigger relay, which is included with the optical version of this housing, is powered by two popular "off the shelf" CR 2450 batteries, averaging 4,000 to 5,000 burst of light, the trigger slide into the hot shoe of the camera like any other hot shoe accessory would. The 20079-OPT version of the housing is ready to accept standard optical fiber sync cable commonly found on the market, there is no need for special proprietary or custom type cord, the optical fiber cord supplied by the strobes manufacturers are ready to use as is.
The 20079-NK versions is set up with time proven Nikonos bulkheads connectors, the same found on all our current Aquatica DSLR housings, it is a well-established standard, which has been the back bone of strobe technology for decades and still, by far, the most distributed type of strobe connectors in the whole underwater photography industry, every strobe manufacturer offering then as a mean of connection. The Aquatica A7r II housing comes, not with one, but two of these connectors installed. These connectors, as well as the optical ones are easy to replace in the field, should one decide to alternate between way of triggering their strobes, no special tools are required, and the operation is done in minutes.
Also available is the 20079-KM version. Since many hard working underwater professional photographers prefer using Ikelite strobes and connectors for their ruggedness and reliability. Aquatica has made a point to have this housing version available equipped with an Ikelite strobe connector.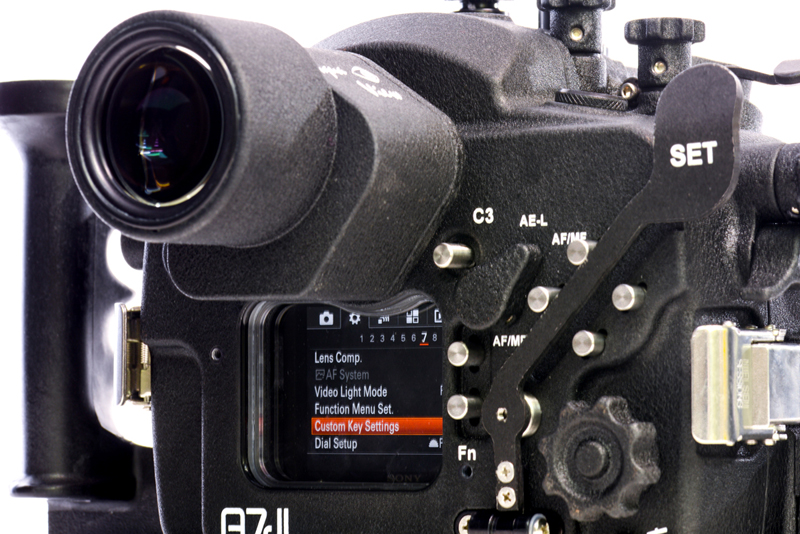 VIEWING OPTIONS
Viewing is done with either our standard Galileo type eye piece or through the rear LCD screen. Shooting close up at sea floor level is much easier when viewing with the rear LCD screen, while viewing through the view finder is ideal for bright sunny condition that may affect viewing the rear LCD screen.
Additionally our two optional finders, the Aqua View 45o and 180o finders can be attached in less than a minute, they provide enhanced viewing of the camera view finder and when coupled with the Sony excellent focus peak option, will be sure to results in razor sharp focusing performances.
An optional LCD sunshade is also available to improve viewing when using the rear LCD screen for shooting.
PORT SELECTION

While the Sony® a7R II camera is diminutives in size, they are nevertheless full frame sensor cameras and the choice of optics are accordingly sized for the task. Rather than introducing yet another line of ports and extension, Aquatica opted to use its excellent line up of existing port for the DSLR line of housings, simply put, there is no need for special dedicated ports or adapter to benefit from the most appealing lenses mentioned earlier for this camera, it also means owners of any current Aquatica DSLR system can migrate their ports, extension and view finders straight to the Aquatica A7r II housing.
Ports are a vital part of the optical formula of any underwater photographic system, we, at Aquatica, have one of the most comprehensive selection available. Our flexible modular system of extension rings, dome and flat ports is ready to face the challenge of constantly evolving lenses coming out on the market. The irreproachable optical quality of these ports have long made them the choice of demanding professionals from around the world.
Wide angle imaging requirement can be addressed with dome of 4"/100mm, 6"/150mm, 8"/200mm and 9.25"/230mm, from ultra wide angle close up situation to top quality over/under images, our dome ports have you covered.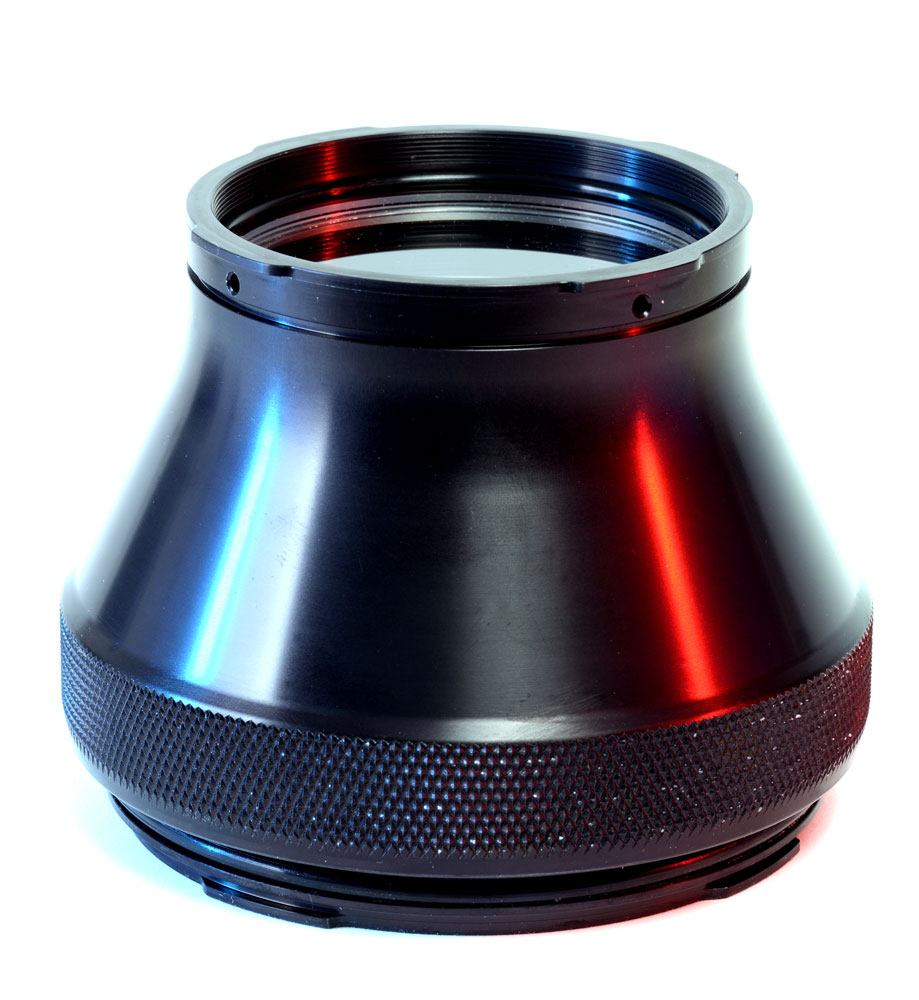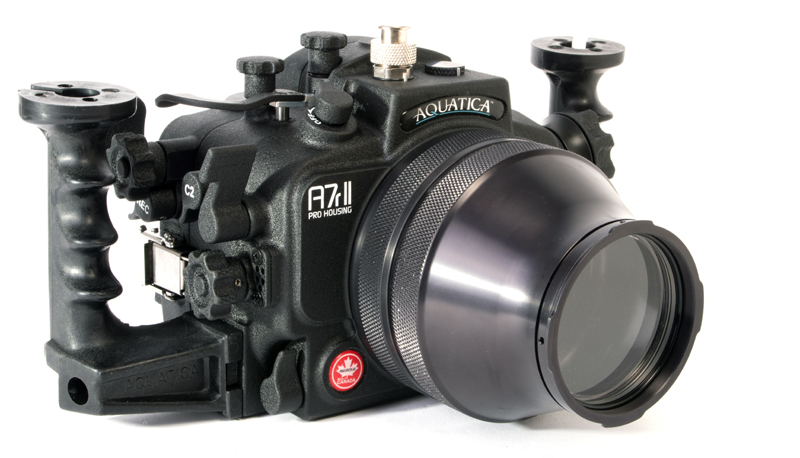 Macro imaging needs can be fulfilled using one of four flat ports available, including our # 18430 slim version with a significantly slimmer front signature and if big is not big enough! Then all four macro ports are compatible with our acclaimed close up wet diopter lenses.
Tying the port system together are a set of ten extension rings, ranging in length from .65"/16.5mm to 3.82"/97.5mm. Port extension are important, as they help optimizing the performance of wide angle lens when properly placed and offer added flexibility in the range of lenses usable behind a specific dome port. When used behind a flat port, they add the necessarily length when using longer focal length, tele converter, dry diopter, extension tube  or other accessories that may contribute to added magnification.
SAFETY FEATURES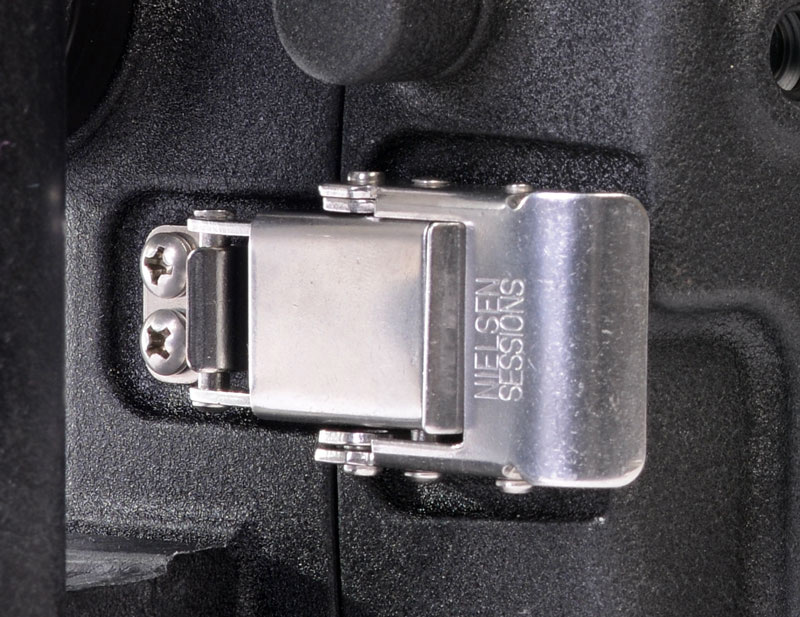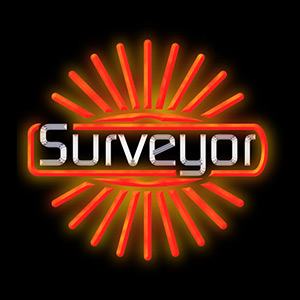 The Aquatica A7r II housing comes standard with our own Surveyor moisture and vacuum monitoring sensor circuit installed at the factory, the housing can be ordered with the optional pressure extracting valve and pump installed at the factory. The visual and audio signal will attract your attention should any of the O-ring becomes damaged or hindered by sand, hair or any foreign objects that would compromise the sealing integrity of the housing. All that is required are a few simple steps for your peace of mind and knowledge that your equipment is safely protected from the environment.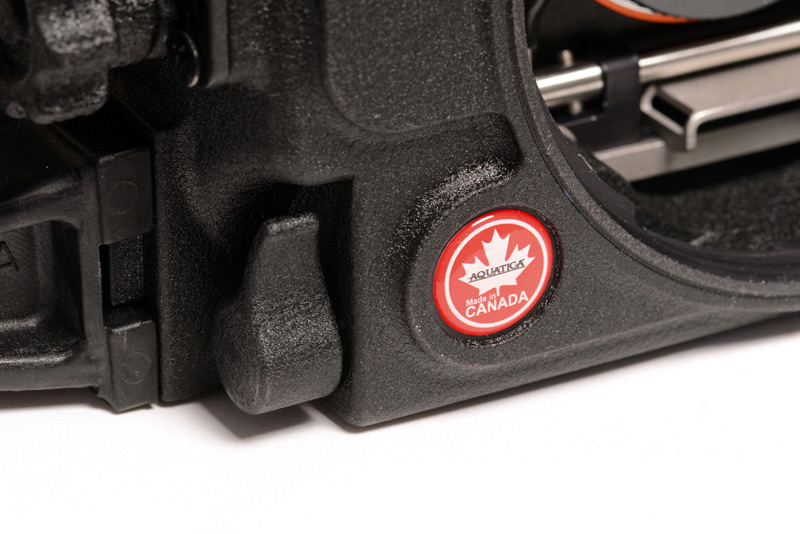 Securing of the housing is done with time proven stainless steel latches with safety tab, these are non-gimmicky, their solid track record shows that they are not failure prone, will not jam up or corrode over time. A large variety of scientific and military departments use theses for securing their valuables assets and equipment for a good reason. Their simple and efficient design makes them reliable, they are a reflection of Aquatica's commitment to rely on time proven technology.
HOW IT'S MADE
At the core of the design is the shell, made of 6061 T6 aluminum, the same routinely used in aerospace technology. Known for its high resistance to corrosion, this material is then anodized to a MIL-A-8625 Type 2, Class 2 speciation, then covered with a tough as nail, black Polyester powder coating, certified to A.A.M.A 2603-98 specification, which is then baked on at high temperature. This kind of protection is not superfluous, as evidently shown on Aquatica housings having logged over 3,000 immersion and which are still on active duty, day after days.
To know more about the manufacturing process of an Aquatica, click here.
Controls shafts and push buttons are Type 304 stainless steel, another metal commonly used by the aerospace industry, it is controlled to be free of the iron contaminants that degrade quality and integrity of the metal, such as often found on the less stringent type 316, which, unfortunately, is too often used in this industry.
To know more about the material used in the construction of an Aquatica housing, click here.
The housing shell, has two entry point for connecting strobes plus three others for adapting various accessories. There is a large size one on the left hand side that can be adapted for a 16mm or 1/2" diameter, ideal for connecting a monitor, behind it is a standard 1/2" diameter one and to its right, a standard 1/2" hole is provided for the optional Surveyor pressure valve.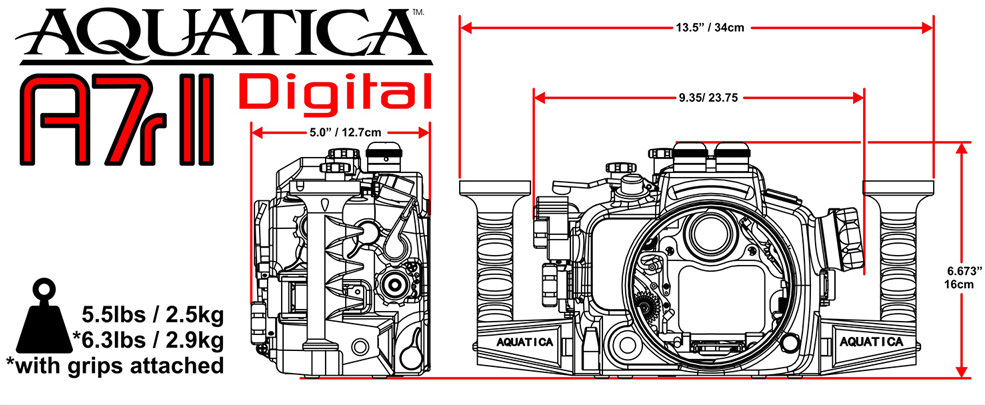 MAIN FEATURES OF THE AQUATICA A7r II HOUSING
Well established and proven system of port, extension and accessories to attend to your personal lenses preferences.
Quick and simple installation of enhanced viewfinders, no special tool required
The best selection of strobes connectors on the market. No additional cost involved, no matter the options selected.

Dual Nikonos bulkheads
Optical fiber with flash trigger included
Ikelite single bulkhead

The best ergonomic, hands on the grip controls placement, including access to the all-important rear control rotary dial.
All controls accessible in all dive conditions, cold or warm, gloves or not.
Secure port locking system and easy access lens release button.
The most comfortable and sturdy hand grips of the industry.
Precise camera mounting via a quick release camera tray.
Three (3) entry point for accessories such as HDMI monitors, Hydrophone, remote control or vacuum monitoring system.
Eight (8) threaded standard ¼"-20 holes on top, bottom and grips for mounting brackets, arm, tripods or other accessories.
Depth rating options of 90m or 130m depth at no extra charges.
Time proven manufacturing process using state of the art tooling, and the best material available for years of enjoyable service.