Nikon's flagship D5 camera is a professional imaging tool with equally impressive still and video capabilities. With customized controls, next-generation lens gear system and uncompromised viewing, Aquatica's new AD5 housing puts the D5's power into the hands of photographers shooting in the world's most demanding underwater environments.
D5 CAMERA HIGHLIGHTS
21MP – Full frame CMOS Sensor
No Anti-aliasing (AA) filter
ISO 100 – 3280000
3.2ʺ Fixed Type Screen
Optical (pentaprism) viewfinder
14.0 fps continuous shooting
4K – 3840 x 2160 video resolution
No Optical low-pass (anti-aliasing) filter
1415g. 160 x 158.5 x 92 mm
Weather Sealed Body
BUILT JUST FOR THE D5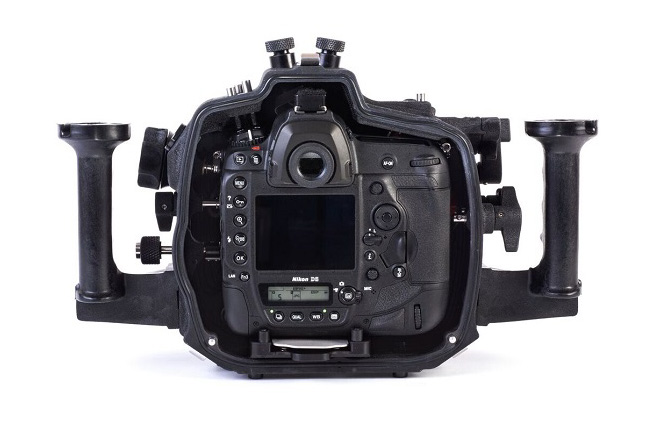 Aquatica is happy to introduce to you our new housing for Nikon's new Flagship pro DSLR camera body combining highly evolved ergonomics with features customized for Nikon's most advanced SLR.
Aquatica was the first to offer access to the Fn1, Fn2 and Pv controls. This is done via a unique toggle levers that accesses the three buttons and gives the photographer control over such things as the power aperture (Close + Open), index marking in video mode and also allows easy viewing of photo shooting information.
A newly designed camera tray delivers smooth and precise positioning of the camera in the housing and allows the user to insert and remove the camera using a simple push tab. The zoom actuating pinion gear and the lens release lever also pull out so the camera can be removed from the back while keeping a lens and zoom gear attached.
Left-hand control buttons are angled and positioned for faster access to the various functions and a quick lever was added for the important ISO access. On the right hand the Live View lever has been relocated closer to your thumb. The multi-controller pad found on the Nikon D5 is made accessible with a simple and proven design and its SET button has been oversized. All push buttons are of high quality Type 304 stainless steel and operate smoothly for a natural feel and intuitive operation.
Three bulkhead access holes are provided to accept multiple external accessories such as our remote trigger (# 19304), Water Wizard external radio transceiver housing, external monitors and/or other accessories. Aquatica also boasts the most comprehensive selection of easily interchangeable strobe connectors in the industry. The 20081-NK includes two of the classic 5-pin Nikonos connectors and the 20081-KT is supplied with a time proven 5-pin Ikelite connector. Both versions are ready to accept currently available TTL converters. Aquatica standard strobe connectors are also now replaceable in the field without the need for specialized tools.
MAIN FEATURES OF THE AQUATICA AD5 HOUSING
Well established and proven system of ports, extensions and accessories to meet your personal lens preferences.
Quick and simple installation of enhanced viewfinders; no special tools required.
Exceptionally good and ergonomic control placement.
All controls remain accessible in all dive conditions, either cold or warm, gloves or not.
Secure port locking system and easy access lens release button.
The most comfortable and sturdy hand grips in the industry, also extendable for larger or gloved hands.
Precise camera mounting via a quick release camera tray with angled rear LCD positioning.
Two (2) entry point for accessories such as HDMI monitors, remote control or vacuum monitoring systems.
Eight (8) threaded standard 1/4"-20 holes, one located on top, three on the bottom and four on the grips, to mount strobe arms, brackets, tripods and a wide range of accessories.
Depth rating options of 90m or 130m depth at no extra charge (factory installed).
Made with a time proven manufacturing process, using the best material available and state of the art tooling. This offers you many years of dependable and enjoyable service.
PROVEN AQUATICA PERFORMANCE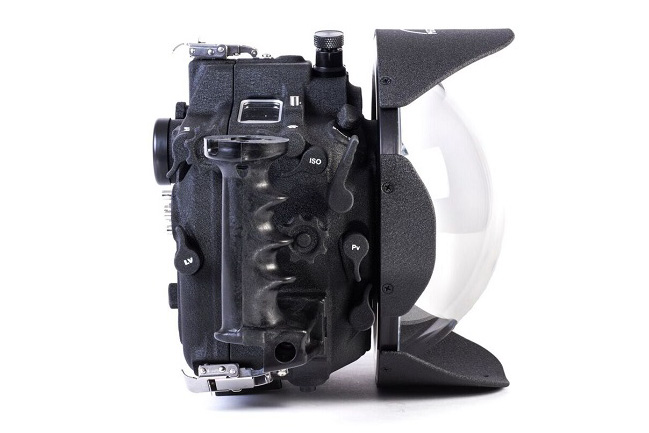 Aquatica's more than 30 years of expertise have helped craft the AD5's ergonomic design. It's a design strongly influenced by professional image makers from around the world who work and consult with us. The result is an unparalleled attention to detail and expertly crafted solutions. Aquatica housings include our own exceptional Galileo-type eye piece. This high quality and coated optical finder gives a bright and full view of the viewfinder. For those who need the ultimate in still image viewing, the optional Aqua View delivers second-to-none clarity; it provides the photographer with tack sharp corner to corner viewing for composing and critical focusing.
The AD5 also retains our trademark moulded grips—the industry standard of comfort for the last 25 years. They are lightweight, and made of one piece so they never come unglued or corrode. Both grips have mounting holes ready to accept the popular mounting bracket of our TLC Delta 3 system and are compatible with most current strobes and lighting arms on the market. An extra mounting point for a focus/video light or other accessories is included on top of the housing and three additional mounting points are provided under the housing for various brackets, supports or tripods.
Of course, the AD5 housing is an integral part of one of the most established and comprehensive port and accessories system of the industry. Aquatica's port system has been a stable platform for more than 20 years and remains one of the most reliable and popular designs on the market.
The durability of Aquatica housings is legendary. The lightweight AD5 benefits from the finest material available in the metallurgic industry and is carefully crafted from a selected alloy of aircraft-grade aluminum. This housing still has the same standard 90m/300ft depth rating and can be upgraded to a 130m/425ft depth rating. Its knurled knobs and oversized controls mean easy operation in all conditions.
Every Aquatica housing is machined on the latest five-axis computer assisted machines. It then undergoes a protective anodizing process to the stringent North American Military Specifications. A baked on powder coating paint is then applied for a tough-as-nails exterior. Additional protection comes from corrosion inhibiting zinc anodes, provided standard with every housing. This additional level of protection is highly effective, as can be seen on some housings with more than 1,500 dives on them that still look as fresh as the day they came out of the box.
SURVEYOR MONITORING SYSTEM
The Aquatica AD5 housing comes standard with a Surveyor monitoring system, a vacuum extracting valve and pump can be added, this is used to monitor the sealing integrity of the housing, adding another level of safety and peace of mind.
WHAT'S IN THE BOX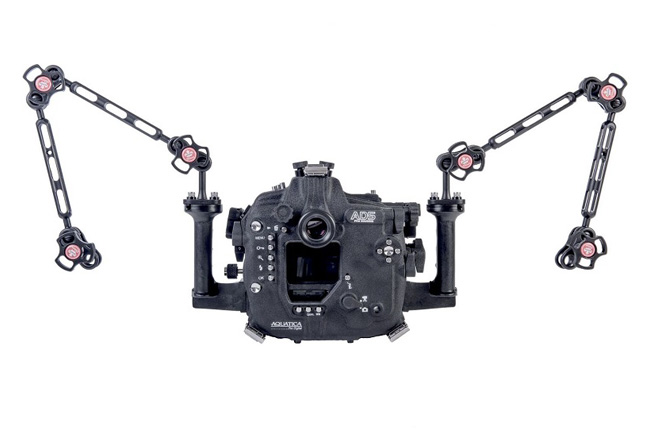 Anodized 6061-T6 aluminum housing
Crinkle powder coating
Best grips in the industry (Left & right)
Choice of strobe connectors
Optional left top side 1/2" or 16mm hole opening
8 x 1/4-20 mounting points (top & bottom)
Mounting hardware for grips
Three sturdy stainless steel latches (with secondary lock)
Extra main sealing oring
Extra Port oring
Aquatica standard eye piece
Built in leak sensor, valve & pump
The Aquatica AD5 is a very compact and lightweight housing tipping the scale at just:
Dimensions: (with grips attached) W 37.2cm x H 23.2cm x D 14.9cm/ W 14.650" x H 9.144" x D 5.876"
Dimensions: (without grips) W 26.8cm x H 23.2cm x D 14.9cm/ W 10.576" x H 9.144" x D 5.876"
Weight (with grips attached): 11lb/4.9kg
Weight (without grips attached): 10.3lb/4.67kg
RETAIL PRICE STARTING AT $ 4,849.00 USD
FINAL PRODUCT MAY VARY
NOW AVAILABLE FOR SHIPPING
For more info contact: info@aquatica.ca or Call 514-737-9481